Domain Brokerage Services
MediaOptions offers premium domain brokerage services for clients who have their eye on a domain name they just have to have. We know the process and have the experience to get what you need. Our unrivaled white-glove approach drives successful domain name acquisitions, putting a smile on our clients' faces. Put the brokering duties in the hands of the best in the industry, knowing you'll get the domain name you need!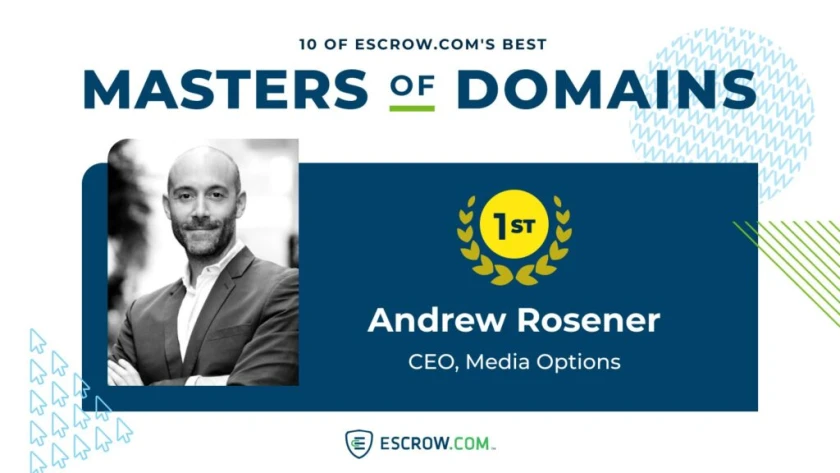 MediaOptions is a one-of-a-kind domain brokerage service that stands out in the industry for our experience, expertise, and dedication to connecting buyers and sellers of premium domain names.
We specialize in the top 2% of website addresses on the web. These "premium" website domains are valuable digital assets with inherent value. This is because they contain words, phrases, or acronyms representing semantic use in culture and commerce.
We are a global matchmaker between the best companies and the most lucrative website names. As a boutique domain name broker, we are highly selective and only take on a few assets at a time. Reach out to our team to learn more.
What Sets Us Apart?
Our domain broker service has closed hundreds of millions of dollars in sales. While most domain brokers in the industry rely on inbound leads and inquiries, we don't wait around for the right buyer to come to us. Instead, we find the right people, educate them, and expertly craft a narrative to drive a purchase decision.
We specialize in white glove outbound brokerage to end-user companies. This means higher offers and profits for your premium URL.

We handle everything related to the sales process so you can focus on what you do best.

We market your URL directly to decision-makers, which means a higher chance of selling and a better price.

No broker in the market today has our team's experience and track record.

We are consistently the largest customer of Escrow.com in the domain name industry. That means we likely transact more of these deals in the aftermarket than anyone else.
When It Makes Sense to Invest in a Domain Broker
According to Forbes, going through a broker can help you achieve the best results at the best price. Investing in a brokerage service makes sense in several scenarios, including when you:
Lack the time, expertise, or resources to sell your website address independently.

Desire to maximize the value of your digital asset.

Own a web address that requires a targeted marketing approach.

Need to maintain confidentiality during the sales process.

Are looking to purchase an expensive, previously registered website address.

Need a domain name consulting service to help you select the right URL.
If any of these apply to you, it may be beneficial to work with a broker. A reputable broker can help you navigate the sales process and secure the best possible outcome for your investment.
A Website's Value
The value of a web URL is determined by several factors, such as its length, memorability, branding potential, keyword relevance, and extension.
A website's value is also influenced by the following:
Current market trends

Industry-specific factors

Demand
In addition to domain name consulting, domain sales, and acquisitions, we offer valuation services to help our clients determine the worth of their digital assets.
Our team of experienced brokers understands the market and can provide accurate valuations based on various factors, including age, extension, keywords, and search engine rankings.
Domain Valuation Services
Our domain name appraisals include a comprehensive report with comparable sales data, market trends, and expert recommendations. This approach gives our clients the information they need to make informed investment decisions.
We invented the industry standard (the "Rosener Equation") for digital asset appraisals. Our firm understanding of domain value and unparalleled expertise give us leverage to negotiate the best price for our customers with integrity and discretion.
Stealth Domain Acquisitions
Stealth acquisition means discreetly purchasing website names without disclosing the buyer's identity. This approach is useful for businesses and individuals looking to acquire high-value names without raising prices or alerting competitors.
We are experienced in providing stealth domain acquisition services, and our team is skilled in negotiating deals under the radar. As a result, we can help you acquire your desired name discreetly, even if it is not one of our currently brokered domains.
How Our Domain Brokerage Service Works
MediaOptions' premium name brokerage service offers current domain owners the highest level of professional outbound marketing in the industry.
The first step in our process is to identify the appropriate and qualified end-users. These businesses and individuals will get the most value from your digital asset and can pay you what it's worth.
Each deal is unique and comes with unique circumstances. We have processes in place to accommodate even the trickiest of situations. For example, rather than sending out impersonal mass emails to try and broker deals, we pick up the phone and talk directly to decision-makers.
Through decades of experience, we've built a robust professional network and earned a trusted reputation. Our track record for getting digital assets in front of the most qualified buyers speaks for itself. Learn more about Domain Names as a Service™.
Upfront Costs and Commissions on Domain Sales
Unlike some domain broker services, we base our commission on the successful sale of your digital asset. That means you pay nothing unless we are successful. Lucky for us (and you), we sell, on average, 80% of the names we take.
Domain Broker Commission Fees
Our commission is 15% of the final sale price, with a $1,000 minimum. In addition, we require an exclusive brokerage agreement for all digital assets we represent, with no exceptions.
Presenting the market with a clear, concise, and appropriate narrative around your website address is critical. When you own an asset that may potentially change your life, you can't afford to settle for anything less than the best representation that knows how to acquire and register the domain name you choose.
Secure Payments for Domain Names
Our firm takes information security seriously. Your information and transaction are 100% secure with us, as we partner with trusted companies like Escrow.com and PayPal. We generally process transactions under $5,000 through PayPal unless the circumstances call for something different.
Domain Name Buying Service
In addition to outbound sales, our firm specializes in acquisitions. This is a white-glove service provided by an expert broker. Your dedicated broker will work tirelessly to get and register your desired website name.
We have long-established relationships and a proprietary database of past sales, price quotes, and ownership. Our domain buy service can often involve:
Identifying hard-to-find owners.

Negotiating fair prices based on the nuances of each owner.

Helping our customers acquire their ideal website address.
Domain Broker Marketing Platform
The hardest part of outbound outreach is identifying the right decision-maker. When marketing expensive domains, we pride ourselves on reaching out to qualified decision-makers empowered to say "yes."
Our marketing platform includes the following:
Sending targeted emails that have been tested on over 100,000 contact points at tens of thousands of companies.

Making calls to decision-makers

Inclusion in our newsletter, which is one of the largest in the industry

Sending press releases to relevant media outlets (when appropriate)

Advertising on Facebook, LinkedIn, and other social media and marketing platforms
Learn More About Our Services
Whether you have a premium domain to sell or are looking to buy that perfect domain, MediaOptions is here to help you achieve your goals. Our mission is simple: We seek to match the best possible end user to a website address, and in the process, we bring liquidity to an otherwise illiquid market.
Our track record speaks for itself. We've brokered hundreds of millions of dollars worth of successful transactions for large companies, investors, and startups. Contact us now to learn how we can help you buy or sell your premium digital asset.